Town Staff
Get acquainted with the Administrative and Maintenance staff who improve Gardnerville's beauty.
---
Town Manager
Erik Nilssen, P.E., Town Manager was hired on May 18, 2019. He can be reached by phone at (775) 782-7134.  Email ehnilssen@douglasnv.us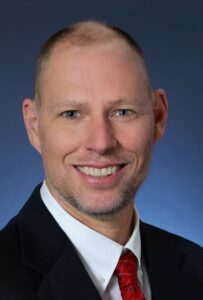 Erik Nilssen was born on the Upper Peninsula of Michigan.  Being the son of an Air Force Officer he was forced to move often, eventually residing in ten states and three countries (United States, Sweden, and the Dominican Republic).  Erik earned his first bachelor's degree from Weber State University in Ogden, Utah with a major in Applied Environmental Geosciences and a minor in Mathematics.  He was fortunate to start his career as a hydrologist with the Flood Control District of Maricopa County (Phoenix, AZ), one of the largest flood control districts in the Western United States.
Although work at the district was interesting, Erik worried about being pigeonholed as a "grading and drainage engineer" and accepted a Civil Engineer position with the City of Mesa, Arizona.   The City of Mesa exposed Erik to all aspects of Municipal Engineering including; water, waste water, storm water, transportation, transit, street lights, traffic signals, parks, recreation and commercial facilities.  During his time at the City of Mesa Erik completed a bachelor's degree in Civil Engineering from Arizona State University and earned his license as a Professional Engineer (P.E.).
Looking for friendlier confines to raise his family Erik was hired by Douglas County to serve as the County Engineer in 2012.  From 2012 through 2019 Erik managed the Engineering Division of the Douglas County Community Development Department.  Major duties of his position included all plan review and inspection of public works infrastructure, obtaining numerous grants, and updating Douglas County Code and the Design Criteria and Improvement Standards.  While working for Douglas County, Erik completed a Master's Degree in Public Administration at the University of Nevada Reno.
In April 2019 Erik was selected to be the next Gardnerville Town Manager.  As of 2023 under Erik's direction the Town has completed several major capital improvement projects including the reconstruction of Bell Street and Cemetery Lane and a new storm drain and sidewalks on High School Street. The Town also worked with the Nevada Department of Transportation (NDOT) to install rapid flashing beacons across US Highway 395 at High School Street and Mill Street to make crossing the highway safer for the students of Carson Valley Middle School as they walk to school. A 13,000 cubic foot underground detention reservoir and associated drainage infrastructure have been installed at The Gardnerville Station to reduce flooding on the highway.
Under Erik's direction Design Guidelines were prepared to raise the requirements of new development within the Town. A parks and open space master plan was approved by the Town Board. Erik worked with Main Street Gardnerville to have a Public Arts Plan adopted to help give Downtown Gardnerville a theme. Several arts projects have been added to the Downtown since 2019. The Mountain View Pond has been expanded, a boat ramp installed and with the help of the Nevada Division of Wildlife fish have been added to the pond. A joint project with Douglas County, NDOT and the Town of Minden saw the 2.5 mile paved Martin Slough Trail completed connecting Minden and Gardnerville in the summer of 2022.
Erik and his wife Ashley were married in 2001 and have three children.  They enjoy skiing during the winter and hiking, fly fishing and swimming in the summer.  The Nilssens do not believe there is a better location to raise a family and are grateful for the opportunity provided by the Gardnerville Town Board.
Responsibilities
The Town Manager is hired / appointed by the Town Board. As the Chief Executive Officer of the Town of Gardnerville, he is directly responsible to the Town Board to develop and implement policies guiding the town.
Town Strategic Plans
The Town's Strategic Plan offers direction and focus for maintaining and improving our community. The Capital Improvement Plan is reviewed every year and projects are updated, added, and changed as an integral plan for the town's future and a key tool to ensure the town's long-term fiscal sustainability.
Administrative Staff
Geoff LaCost, Superintendent Town Public Works - glacost@douglasnv.us
Carol Louthan, Administrative Services Manager - clouthan@douglasnv.us
Marie Nicholson, Secretary -mnicholson@douglasnv.us
Melissa Garcia, Office Assistant - megarcia@douglasnv.us
Maintenance Staff
Eric Matus, Town Maintenance Supervisor
Michael Avila, Town Maintenance Specialist
Anthony Griffith, Town Maintenance Specialist
Kurt McRae, Town Maintenance Specialist
Wayne Mlnarik, Town Maintenance Specialist
Sanitation Staff
Aron Eissel, Town Sanitation Specialist
Winter King, Town Sanitation Specialist
Brent Wittler, Town Sanitation Specialist
Seasonal Staff
Tommy Lancaster, Town Maintenance Assistant
Tyler Hunter-Walsh, Town Maintenance Assistant
Link to ESuite