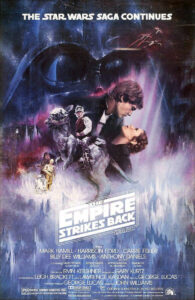 Title: Star Wars: The Empire Strikes Back
Year 35; 3 years after Episode IV
THEATRICAL RELEASE DATE May 21, 1980
DEVELOPMENT STUDIO 20th Century Fox
PRODUCTION Lucasfilm
DIRECTOR Irvin Kershner
WRITER George Lucas (story)
SCREENPLAY Leigh Brackett, Lawrence Kasdan
PRODUCER Gary Kurtz
PRODUCTION DESIGN Norman Reynolds
DESIGN CONSULTANT/CONCEPTUAL ARTIST Ralph McQuarrie

Discover the conflict between good and evil: The Empire Strikes Back. After the destruction of the Death Star, Imperial forces continue to pursue the Rebels. After the Rebellion's defeat on the ice planet Hoth, Luke journeys to the planet Dagobah to train with Jedi Master Yoda, who has lived in hiding since the fall of the Republic. In an attempt to convert Luke to the dark side, Darth Vader lures young Skywalker into a trap in the Cloud City of Bespin.  In the midst of a fierce lightsaber duel with the Sith Lord, Luke faces the startling revelation that the Vader is in fact his father.

Rated PG
Movies in the Park Home Page
2023 SPONSORS - MOVIES IN THE PARK
Alex Uribe - State Farm Insurance
Valley Pediatric Dentistry
Mark Smith Tire Center - Les Schwab
Bodywise Physical Therapy-Fitness
Northwest Martial Arts